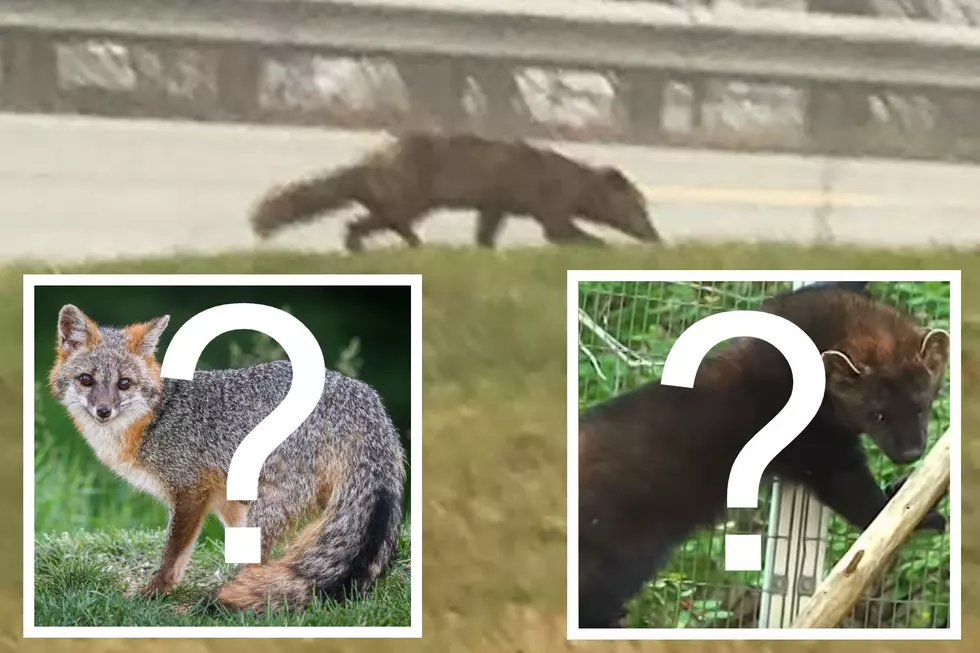 Brewer Creature Is Mystifying Residents
Multi photo credits: Fisher or fox photo: Used with permission by Debbie Theriault, Facebook; Fox: johnpane ; Fisher: Video still from capecast via YouTube
One little creature has sparked a lot of controversy in North Brewer.
Debbie Wright Theriault posted the photo to a neighborhood watch group for Brewer on Facebook, and people were both ways with their thoughts on which animal it could be: a fisher or a fox.
Debbie says, "I parked [on North Main Street in Brewer] ... and took the pics. [The animal] later walked over to my empty lot...he rummaged around in there for probably 30 minutes or so."
Here are pictures of the creature Debbie posted in the Neighborhood Watch group that started the debate of whether she saw a dark colored fox or maybe an elusive fisher.
North Maine Street Fox or Fischer December 2020
According to Wikipedia, fishers are part of the weasel family, closely related to the American marten and are often found in forested areas in Canada and northern parts of the United States. Their size is considered "mid-sized mammalian" and is comparable to a house cat. Though their diet is usually generally smaller animals, like hares and even porcupines, they've also been known to hunt Canadian Lynx here in Maine.
Pictures of Fishers
Debbie originally thought the creature was a dark colored fox, "I thought it was a fox only because my dad has a pure black fox that comes to his field … so, although this wasn't the right color for a fox, I thought maybe a black fox and a red fox hooked up and this was the outcome.  But, the nose bothered me as it didn't look like a fox nose to me."
Debbie sent the photos to her husband to see what he thought: "I sent the pictures to my husband asking [if he thought it was a] fox or coyote? He said it didn't really look like either one.  So, I posted it [to the Brewer Neighborhood Watch Facebook group] and everyone said 'fisher cat' which, I've never seen before. So, I really don't know."
We all want an answer to the mystery but Debbie notes that it's been fun putting the picture out there and seeing what other people have to say about.
But, maybe there's one more option that it could be: "To be honest, my husband and I jokingly call it a Chupacabra. Ha ha."
Well, Debbie, would a Chupacabra really be that outlandish for 2020?  Anything's possible.
Enter your number to get our free mobile app
Can The Average Person Outrun These Maine Creatures?
More From WWMJ Ellsworth Maine