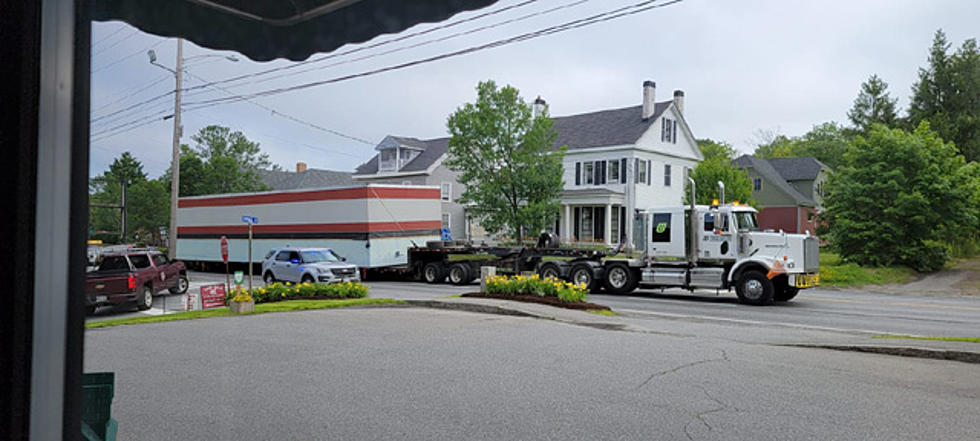 Driver Shown Hero's Welcome From Bar Harbor As He Delivers MRI Building To MDI Hospital
Robin Jordan Beal via Facebook
Most of Eastern and Downeast Maine watched in anticipation this week as Trans United Inc driver, Mike Saxton, made his way to MDI with an enormous delivery.
He was hauling the building that would house the new MRI Unit for MDI Hospital.
Saxton, who had started the journey with his oversized load just before the 4th of July, made it to Maine on the 14th.
He would embark on an arduous journey that would see him stuck with his 164-foot payload first on the Penobscot Narrows bridge Wednesday evening...
and then again by the Asticou Inn in Northeast Harbor Thursday afternoon.
As folks kept track of his travels and tribulations online on the Downeast Maine Traffic & Road Conditions Facebook Page, one thing started to become clear to everyone watching Saxton work; he was doing an outstanding job under a very stressful situation, and he was keeping his cool in the midst of all those challenges.
An as Saxton's notoriety online grew, along with his reputation of professionalism (let's face it, who here could manage to back a lawn trailer into a parking spot, let alone navigate the narrow, curvy streets of MDI with an entire building strapped to their vehicle? Not me, that's for sure!) people started to travel to the area to see him in action, and to demonstrate their thanks and thumbs up!
Many online started to call for folks to buy this guy a dinner or a beer because they were so impressed with the way he was handling such a tough situation. And by the time he had made it to his final destination Thursday evening, the people of MDI had gathered together to show Mr. Saxon their appreciation for all of his hard work.
This was apparently a gesture Mr. Saxon was not used to.
Fleet Manager for Trans United Inc, Zak Flemming, posted this message on social media Thursday night:
"Our driver Mike Saxton said he has never in his career been so welcomed by a community. Typically us working around turns causes extreme frustration and tempers by the community, this wasn't the case today.
He mentioned that several of you came up to him, complimented him, asked if he needed anything, even offered him dinner, etc.. He has never received that kind of a response from anyone, especially in those circumstances.
>Bar Harbor showed its true colors and we want to thank all of you for your help and patience as we did everything possible to get this MRI building to your hospital."
Flemming went on to say that MDI Hospital had put Saxton up in a local hotel room with an ocean view, and was picking up the tab for a lobster dinner and drinks.
More than 100 members of the community chimed in, commenting on Flemming's post, passing along their messages of thanks.
Folks like Alice Clair wrote "It was so impressive to watch the entire crew! Thank you all for a job well done!"
And Mark Leonardi said "Mike did his job and did it well. The men and women who keep things moving around our great country are to be admired and acknowledged. It's a thankless job that should be more appreciated. Thanks Mike. Much respect."
For a job well done, under the most stressful of circumstances, we thank you, Mike Saxton, for delivering something so important to the MDI community. We hope you'll visit our great State of Maine again, perhaps, this time, in a sedan.
Someone set up a GoFundMe Page to raise money for Saxton to come back to MDI with his family, if you want to check it out.
The Worst Intersections in Maine
The Amazing Maine Sights Mainers Say People From Away Need to Visit
Mainers list the must-see areas of the state to anyone visiting from away.
More From WWMJ Ellsworth Maine