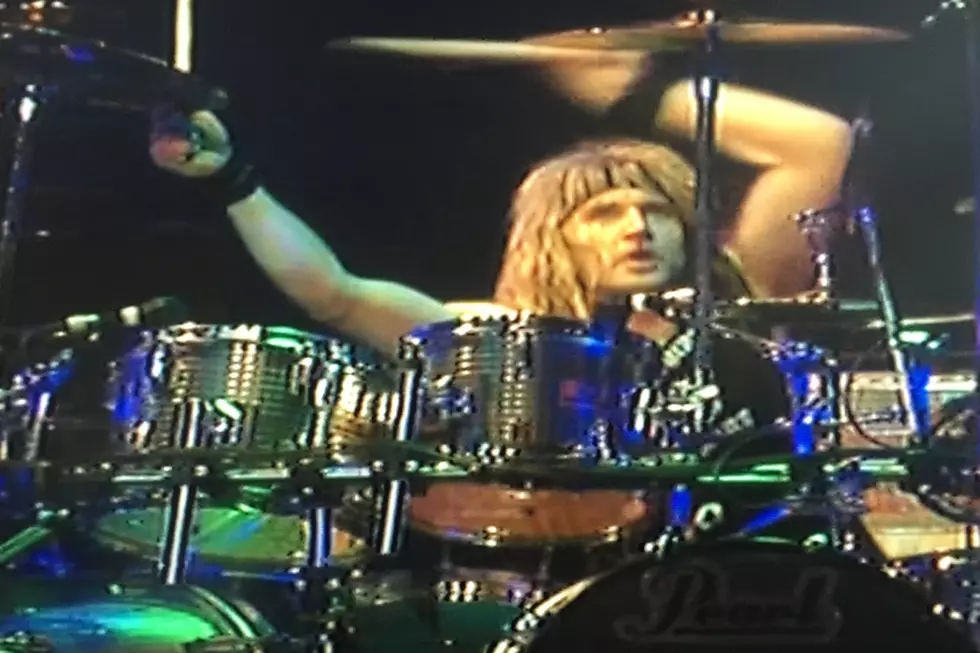 When Eric Singer Played His First Kiss Show
Polygram
As Eric Singer got set to make his first live appearance as a member of Kiss on April 23, 1992, he could have been forgiven for experiencing mixed emotions. Still, the education he'd received from an early age meant he was prepared, calm and focused.
It was an emotional moment for the Kiss family, as they continued to deal with the death of previous drummer Eric Carr five months earlier. Carr's cancer battle meant he'd been unable to fulfill recording duties for their 1992 album Revenge, and so Singer – a former member of Paul Stanley's solo band who'd also worked with Black Sabbath and Alice Cooper – was recruited on a temporary basis.
Singer told UCR: "Paul told me Eric was ill, but I didn't know any details. He asked if I could play on 'God Gave Rock and Roll to You' for the Bill & Ted's Bogus Journey movie. Later that summer, I was on tour with Alice Cooper, and Paul called me up again and said they needed help.
"They'd tried to work with Eric on two separate occasions, but he wasn't well enough. Doing a record isn't like the rigors of touring, but it's a demand on your time. You can be working 10, 12, 14 hours every day. Eric wasn't up to it. Originally I was only going to play on half the record, and they were going to do the other half with another studio musician. But once we started, Gene [Simmons], Paul and Bob Ezrin went, 'We think there's a good chemistry.'"
Producer Ezrin called Cooper's manager, Shep Gordon, and asked to cut a deal. As a result, Revenge was recorded in two stages between legs of Cooper's world tour. "I was recording up to the day before I went to Europe," Singer recalled. "After the tour, they got back in touch and asked me about being in the band, because Eric had unfortunately passed on. I had very mixed emotions – I thought, 'Here's a good opportunity for me, but under the worst conditions.'" Asked whether the possibility of being offered the job had occurred to him, he said: "Did I have a feeling it was going to go that way? Yeah."
Singer knew how to apply himself to the challenge of replacing Carr. "I've always had what you might call a workmanlike mentality to being in a band. I know a drummer is there to provide a certain function. I had good training – I played in my father's band from a young age, and my dad was quite the taskmaster. I learned how to be a key-player band guy, to really listen to people, and to listen to the leader.
"When you join a band that has a predetermined style and direction, you have to fit into that. You can't come in and go, 'Okay, well, this is what I think and here's how we're going to do it.' When I joined Black Sabbath, they had a catalogue of songs and Tony Iommi had a style of drumming he preferred. When you create new music with people you can go, 'Okay, this is how I hear it.' When you join Kiss you go, 'What's their style, and how do I fit in?'"
Watch Eric Singer Perform With Kiss
He knows he wasn't the only drummer considered for the role – but Singer was surprised when Bruce Kulick later told him that one of his heroes, Aynsley Dunbar, had been auditioned and then ruled out. "Aynsley was very disappointed, but Bruce said, 'Aynsley, fuck it! You're phenomenal. It has nothing to do with you as a drummer. This has to do with Kiss having a certain sound and style. Gene and Paul have to have a drummer that they feel interprets their style.' I was shocked when I heard that."
Ahead of the full-scale Revenge tour, and weeks before the album's release, Kiss commenced a low-key club tour as a way of "breaking the new guy in," Singer confirmed. "I had a fire-engine red drum set, and I put the Kiss logo on it because I've always been into detail. When Paul walked in I went, 'What you do think?' He went, 'The logos are wrong.' I didn't realize the two Ss are slightly different, to form a lightning bolt. Now I know, I always look at a Kiss logo that somebody's done to see if it's correct."
The first show took place at the Stone Club in San Francisco, and by that time, Singer felt ready. "I remember Gene, Paul and Bruce backstage, being very nervous about me as the new member. I was calm and regular as can be – 'Why are you guys so nervous?' I found it almost ironic. And everything went off pretty well without a hitch. We went out like stormtroopers and I was excited to be in the band. It was good!"
He didn't have much to worry about from the ferocious Kiss Army, since many of the fans had already accepted him during his time with Stanley's solo band. "You become part of an extended family and you stay there," he reflected.
The big lesson from that night was one that he wishes more people would learn: "The guys in Kiss are much better musicians than people want to give them credit for," he asserted. "Especially Gene. I've played with some great bass players – Bob Daisley, Neil Murray – those guys were fantastic. Gene is one of my favorites because he plays on-the-money solid. He doesn't rush, he doesn't drag. He brings foundation and anchor. And while Kiss music isn't complicated, he comes up with some really nice inventive parts, really catchy stuff. He's a lot of fun to play with."
Singer is now on his third stint with Kiss, having bowed out twice for original drummer Peter Criss. "They hired me because they thought I could play their stuff the way they wanted it played," Singer said, "and here I still am!"
A Complete Guide to Kiss Lineup Changes
More From WWMJ Ellsworth Maine