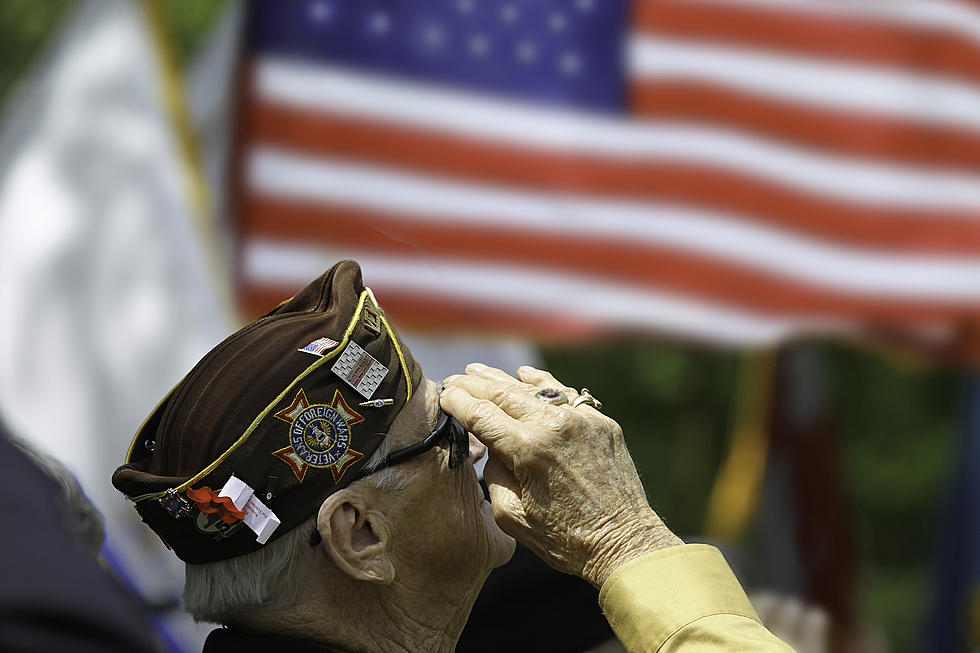 Free Food for Veterans in Bangor-Brewer Area Saturday
ThinkStock
Here's an alphabetical, but maybe not a complete, list of Bangor-area restaurants offering free meals and other deals for veterans and active duty service members to salute them for Veterans Day on Saturday
Most are national chain restaurants doing deals coast to coast in many locations. One can appreciate how difficult it is as a local restaurant owner, in such a different business than it was pre pandemic, to offer free food. But they do.
Thanks to all Veterans. Let's eat.
First the 15th Annual Rotary Club of Bangor Breakfast for Veterans Day is at Jeff's Catering & Events Center in Brewer. It is all you can eat pancakes and it is free for veterans.
For others it is $7 (children under 12 - $4) and it is a fund raiser to support the work of Bangor Breakfast Rotary Charities.  Saturday from 7 a.m. to 10 a.m.
Veterans and active-duty military receive a free entree when dining in from a special menu for Veterans Day on Saturday.
Blaze always extends a 10% discount to Veterans every day, and on Veteran's Day that offer becomes 25% off the entire tab. Blaze also will often give veterans a $15 gift card for their next visit. These offers are at all Blaze locations.
Veterans and active-duty service members get a free order of 10 boneless wings and fries Saturday at Buffalo Wild Wings. The offer is available for dine-in or takeout.
Veterans and active-duty service members get a free meal from a select menu Saturday at Chili's. Available for in-restaurant only.
Veterans and active military personnel get a free Build Your Own Grand Slam for Veterans Day, from 5 a.m. to noon. Dine-in only at Denny's.
On Saturday at Dunkin', veterans and active-duty military receive a free donut at participating locations.
For those who want to buy groceries for a meal at home, or pick up something prepared to take away, Hannaford is giving all veterans, active duty military and their family members a 10% discount. (Beer, liquor, pharmacy prescriptions excluded)
Veterans and active-duty military get free Red, White & Blueberry Pancakes at participating locations on Saturday. Dine-in only. (Closest IHOP location to Bangor/Brewer is Augusta).
Veterans and active-duty military get a free Lunch Combo at participating Little Caesars stores on Veterans Day, from 11:00 AM to 2:00 PM.
Veterans Dine In for free Saturday at Moe's Original Bar B Que in Bangor
On Saturday, veterans can get a free meal, which includes an entrée from a special Veterans Day menu, plus unlimited soup or salad and garlic bread sticks. After all, this is Olive Garden. Dine in only.
On Saturday, at Seasons Grille & Lounge, Vets get a free item from a limited menu all day, dine in only.
Smoke & Steel BBQ -Stillwater Avenue Bangor. All veterans get a complimentary meal Saturday.
Veterans, military service members and military spouses get a free tall hot or iced coffee at participating Starbucks on Veteran's day.
Texas Roadhouse will hand out dinner vouchers at the stores' parking lots Saturday from 11 AM to 2 PM. Veterans and active-duty military can redeem their dinner vouchers when the restaurant opens for dinner, any time through May 30, 2024.
At Wendy's, Active-duty military and veterans get a free breakfast combo Saturday at participating locations from 6:30 AM to 10:30 AM.
And before or after eating:
The Bangor-Brewer Veterans Day parade steps off at 10:15 AM Saturday. It will start at the intersection of State and Wilson streets in Brewer, and continue down Wilson Street, cross the Joshua Chamberlain Bridge, then turn onto Main Street in Bangor before ending at the corner of State and Exchange streets downtown. There will be a brief ceremony in West Market Square hosted by the Bangor High School Army JROTC.
Maine's Most Hated Thanksgiving Food
From most loved to most hated food at Thanksgiving Dinner
Gallery Credit: Scott Miller
Marvel Actor Yearbook Photos
See what Marvel's stars looked like in their early years.
Fame and Fortune: These Are the Richest Celebrities in the World
Stacker
compiled a list of the world's richest celebrities using data collected from
Celebrity Net Worth
's rankings by current net worth.
Gallery Credit: Stacker
More From WWMJ Ellsworth Maine