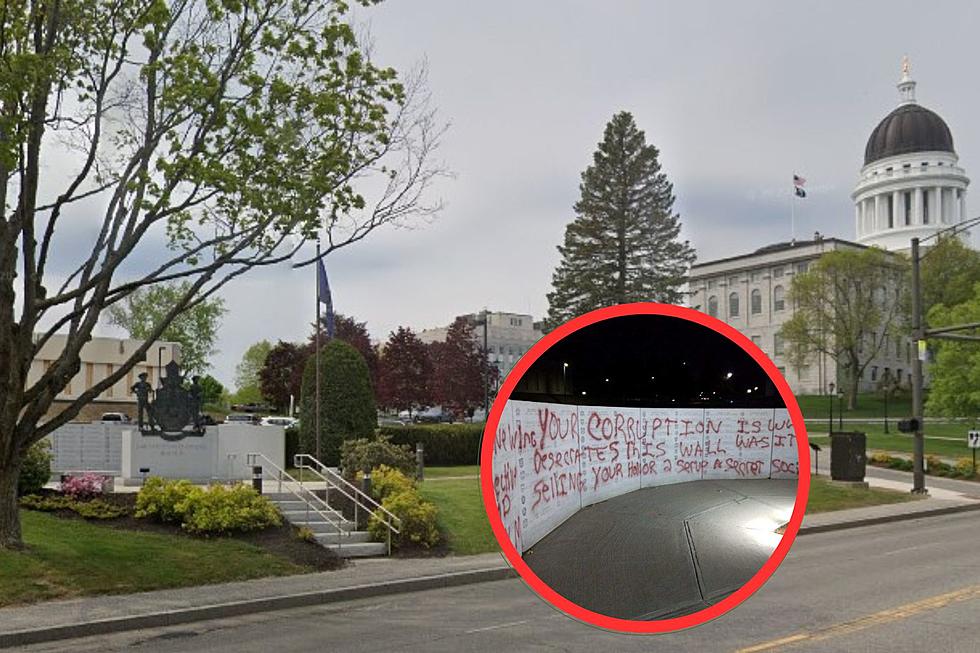 Arrest Made for the Spray-Painting of the Maine Police Memorial
Google/Maine Association of Police via Facebook
An Augusta man has been arrested in connection with graffiti that was painted on the Maine Law Enforcement Memorial.
Who Was Arrested?
Maine Department of Public Safety spokesperson Shannon Moss says Justin Larrabee, 39, of Augusta is charged with aggravated criminal mischief.
What Happened to the Memorial?
The arrest came after a joint investigation between the Augusta and Capitol Police Departments into the incident that happened during the early morning hours of Sunday, May 28th. Someone spray-painted derogatory comments across the face of the memorial wall, which bears the names of members of law enforcement who have died in the line of duty. The memorial was draped in tarps and cordoned off with crime scene tape until such time that the city could remove the graffiti.
Larrabee was arrested on Friday afternoon, June 9th, after a search warrant was executed at a Riverside Road address in Augusta. The criminal summons also names Larrabee for another vandalism incident that happened in the city a few days after the defacing of the law enforcement memorial.
Augusta Police Chief Jared Mills congratulated everyone involved in the investigation.
On behalf of the Maine Chiefs of Police Association and the Augusta Police, I want to recognize the investigators with the Augusta and Capitol Police for the countless hours they spent to bring this investigation to a successful resolution.
Capitol Police Chief Matthew Clancey called it a '"textbook example of inter-agency cooperation."
Wasn't There a Reward Connected to This Case?
Police have not commented on how they were tipped off the Larrabee or whether anyone is set to collect the $1,000 reward. The Maine Association of Police, Maine Chiefs of Police Association, and Maine Sheriff's Association worked together to offer the reward for the successful arrest and conviction of the person responsible for the vandalism.
LOOK: Here Are 30 Foods That Are Poisonous to Dogs
To prepare yourself for a potential incident, always keep your vet's phone number handy, along with an after-hours clinic you can call in an emergency. The ASPCA Animal Poison Control Center also has a hotline you can call at (888) 426-4435 for advice.
Even with all of these resources, however, the best cure for food poisoning is preventing it in the first place. To give you an idea of what human foods can be dangerous, Stacker has put together a slideshow of 30 common foods to avoid. Take a look to see if there are any that surprise you.
Here are 50 of your favorite retail chains that no longer exist.
More From WWMJ Ellsworth Maine