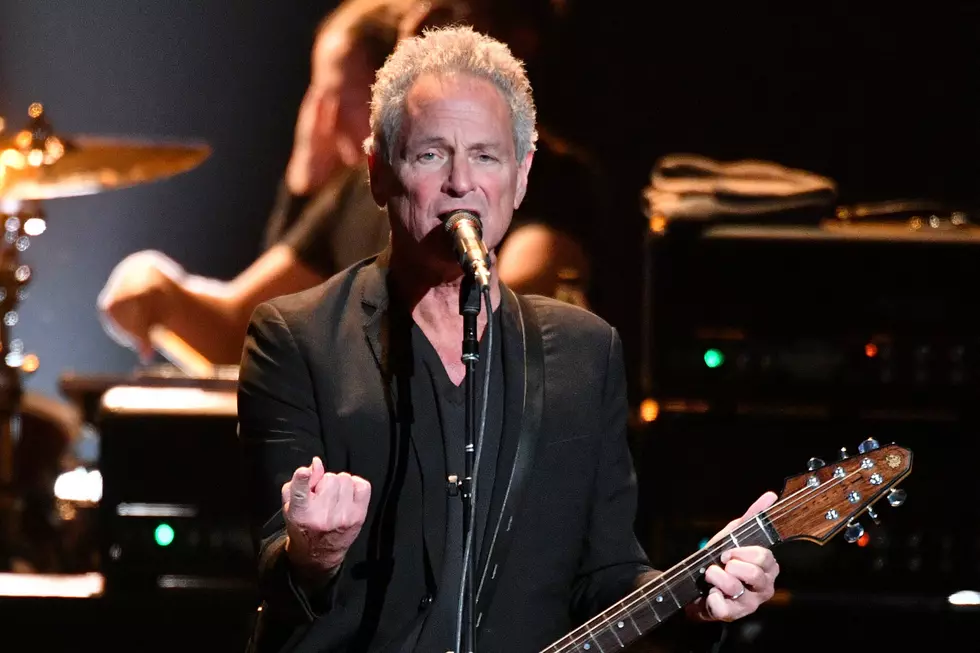 Lindsey Buckingham Announces First Post-Fleetwood Mac Tour
Dia Dipasupil, Getty Images
Lindsey Buckingham has announced a two-month tour of theaters across North America lined up for the fall, marking his first solo performances since he split with Fleetwood Mac earlier this year.
He also revealed details of a three-CD compilation of his solo career that will arrive on Oct. 5.
Buckingham's tour will start at the Revolution Hall in Portland, Ore., on Oct. 7 and conclude at the Sands Events Center in Bethlehem, Penn., on Dec. 9. Tickets go on sale to the general public Friday and Saturday. You can get full details, including pre-sale information, at Buckingham's website.
A list of tour dates is below.
Solo Anthology - The Best of Lindsey Buckingham consists of three discs comprised of material from throughout his solo career, including "Holiday Road" and live versions of some of his most famous Fleetwood Mac songs. The set also includes two never-before-released tracks, "Hunger" and "Ride This Road." A one-disc distillation of the collection will be available, as will a six-LP vinyl version that will be released on Nov. 23.
Tickets for all but the Wilmington, N.C., and New London, Conn., shows come with a CD or digital download of the single-disc version of Solo Anthology. You can see the track listing below the tour dates.
Buckingham parted ways with Fleetwood Mac earlier this year, reportedly because he wasn't willing to commit to a lengthy tour. They're moving on without him and have brought in Mike Campbell from Tom Petty and the Heartbreakers and Neil Finn of Crowded House as replacements.
"We were supposed to go into rehearsal in June, and [Buckingham] wanted to put it off until November [2019]," Stevie Nicks said in April. "That's a long time. I just did 70 shows [on a solo tour]. As soon as I finish one thing, I dive back into another. Why would we stop? We don't want to stop playing music. We don't have anything else to do. This is what we do."
For his part, Buckingham has yet to formally address the situation, but at a fundraiser in May, he said that the firing "was not something that was really my doing or my choice. I think what you would say is that there were factions within the band that had lost their perspective. ... It harmed the 43-year legacy that we had worked so hard to build, and that legacy was really about rising above difficulties in order to fulfill one's higher truth and one's higher destiny."
Lindsey Buckingham 2018 North American Tour
10/7 -- Revolution Hall - Portland, OR
10/9 -- Palace of Fine Arts - San Francisco, CA
10/12 -- Orpheum Theatre - Los Angeles, CA
10/13 -- Spreckels Theatre - San Diego, CA
10/15 -- Boulder Theater - Boulder, CO
10/17 -- Athenaeum Theater - Chicago, IL
10/18 -- Carnegie Music Hall of Homestead - Munhall, PA
10/19 -- Warner Theater - Washington DC
10/21 -- Knight Theater - Charlotte, NC
10/22 -- The Wilson Center at Cape Fear Community College - Wilmington, NC
10/24 -- Frederick Brown Jr. Amphitheater - Peachtree City, GA
10/26 -- Capitol Theater - Clearwater, FL
10/27 -- Knight Concert Hall - Miami, FL
10/28 -- King Center for the Performing Arts - Melbourne, FL
11/5 -- Paramount Theater - Austin, TX
11/6 -- Majestic Theater - Dallas, TX
11/8 -- Brady Theater - Tulsa, OK
11/9 -- Riverwind Casino - Norman, OK
11/10 -- Stiefel Theatre for the Performing Arts - Salina, KS
11/12 -- Lyric Fine Arts Theatre - Birmingham, AL
11/13 -- Walker Theatre - Chattanooga, TN
11/14 -- Bijou Theatre - Knoxville, TN
11/16 -- Centre in the Square - Kitchener, ON
11/17 -- Michigan Theater - Ann Arbor, MI
11/26 -- Palace Theatre - North Canton, OH
11/27 -- Riviera Theatre - New Tonowanda, NY
11/29 -- Garde Arts Center - New London, CT
11/30 -- Appell Center for the Performing Arts - York, PA
12/1 -- Scottish Rite Auditorium - Collingswood, NJ
12/4 -- Town Hall - New York City, NY
12/5 -- The Wilbur Theatre - Boston, MA
12/6 -- Paramount Hudson Valley Theater - Peekskill, NY
12/8 -- Capitol Center - Concord, NH
12/9 -- Sands Event Center - Bethlehem, PA
Lindsey Buckingham, 'Solo Anthology - The Best of Lindsey Buckingham' Track Listing
Disc One
1. "Don't Look Down"
2. "Go Insane"
3. "Surrender the Rain"
4. "Rock Away Blind"
5. "Holiday Road"
6. "Doing What I Can"
7. "Trouble"
8. "I Must Go"
9. "Street of Dreams"
10. "Soul Drifter"
11. "Show You How"
12. "Shut Us Down" (Live)
13. "Slow Dancing"
14. "Countdown"
15. "Someone's Gotta Change Your Mind"
16. "In Our Own Time"
17. "Illumination"
18. "Gift of Screws"
19. "Did You Miss Me"
20. "Down on Rodeo"
21. "Treason"
Disc Two
1. "Hunger"
2. "Not Too Late"
3. "Sleeping Around the Corner"
4. "I Want You"
5. "Time Precious Time"
6. "Stars Are Crazy"
7. "Love Runs Deeper"
8. "You Do or You Don't"
9. "I Am Waiting"
10. "Time Bomb Town"
11. "Turn It On"
12. "Seeds We Sow"
13. "Underground"
14. "Dancin' Across the USA"
15. "Gone Too Far"
16. "End Of Time"
17. "D.W. Suite"
18. "Ride This Road"
19. "Say We'll Meet Again"
Disc Three
1. "Trouble" (Live)
2. "Go Insane" (Live)
3. "Bleed to Love Her" (Live)
4. "Stephanie" (Live)
5. "Never Going Back Again" (Live)
6. "Big Love" (Live)
7. "Under the Skin" (Live)
8. "All My Sorrows" (Live)
9. "Cast Away Dreams" (Live)
10. "Holiday Road" (Live)
11. "Tusk" (Live)
12. "I'm So Afraid" (Live)
13. "Go Your Own Way" (Live)
More From WWMJ Ellsworth Maine