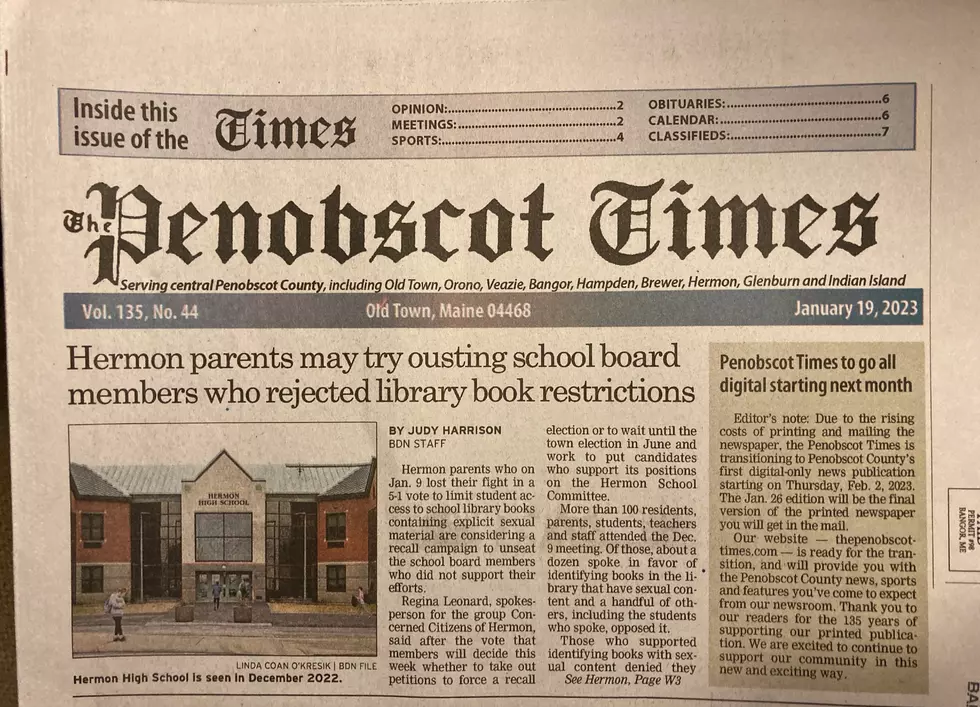 No More Mail: Penobscot Times Will Move Online After Halting Print Edition
Penobscot Times
For 135 years The Penobscot Times, a weekly publication for the Penobscot County area, has been printing and mailing out its newspaper to the communities of Old Town, Orono, Milford, Bradley, and a handful of other small Eastern Maine towns.
Like many, it's something that's been coming to my house for years. And it often features news about the big things happening in the smaller surrounding towns that some of the bigger newspapers may have passed over, or buried in the back.
It usually comes in the mail on Thursdays.
However, in this last edition that went out on January 19, the editor of the paper made an announcement. It was on the front page, but in a small little section off to the side. So in case you missed it, this week's edition of the paper will be the last one they print off and mail out. They're going to an all-digital platform.
"Editor's note: Due to the rising costs of printing and mailing the newspaper, the Penobscot Times is transitioning to Penobscot County's first digital-only news publication starting on Thursday, February 2, 2023.
The January 26 edition will be the final version of the printed newspaper you will get in the mail."
With the rising cost of stamps just going into effect this week, I can't say that I blame them. Everything has gone up in price, and businesses like this are just trying to do what they can to keep on providing their goods while saving money in the long term.
The note went on to say that the last printed publication will be delivered to households this coming Thursday, January 26.
Heads up, after this week, folks wanting to get that small-town local news will now have to go online, to thepenobscottimes.com to get it.
The Bangor Daily News purchased the Penobscot Times in 2019. In 2020, the BDN merged its weekly publication, The Weekly,  with the Penobscot Times, the latter of which became the name of the new, merged publication.
These Are The Most Fun Street Names In the Bangor Area
A bunch of Bangor area streets and roads that are just darned fun to say out loud.
More From WWMJ Ellsworth Maine