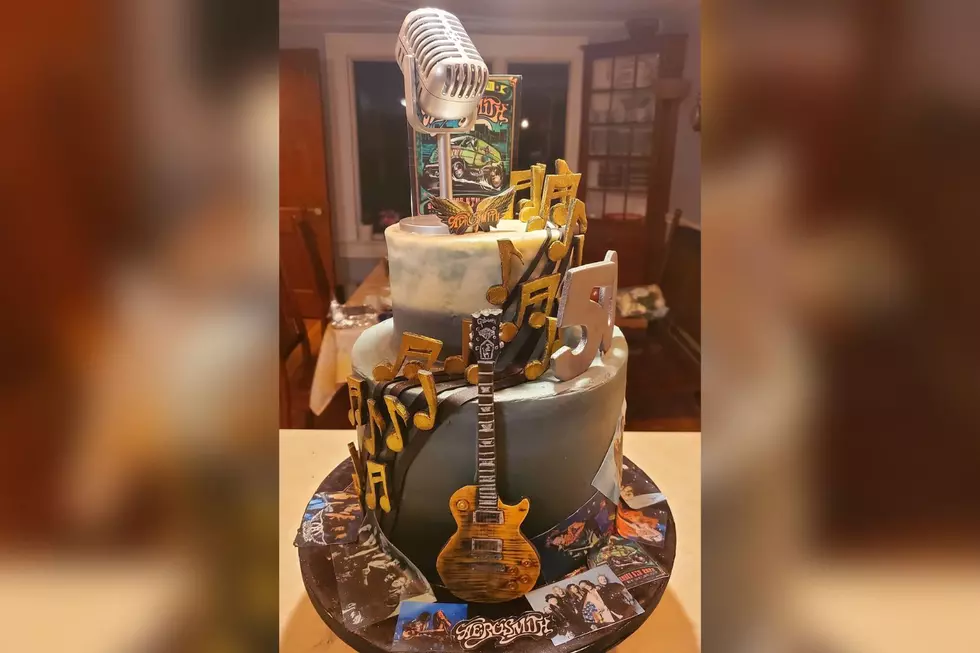 Brewer Baker Helps Aerosmith Kick Off Tour With Epic Rock 'N Roll Cake
LaPierre
After Covid, rehab, and plenty of other obstacles in between, it was obvious to all who could hear or see Sunday night's Aerosmith performance at the Maine Savings Amphitheater in Bangor, that the Bad Boys from Boston were ready to be Back In The Saddle and thrilled to be playing for a live audience once again.
As Joe Perry even said at one point, they'd been laying on the couch watching Netflix for the last 2-and-a-half years and were psyched to be playing together again.
The tour, which had been put on hold so frontman Steven Tyler could go through rehab, kicked off in Bangor. A celebration of their comeback, surviving the pandemic, and Tyler's successful rehabilitation had to be marked in a really special way, so one local baker from Brewer made sure she pulled out all the stops to commemorate the occasion with the most epic of all rock-n-roll cakes (at least that I've ever seen.)
"It helped me unleash my creativity and also satisfy my sweet tooth, so it was the best of both worlds!"
Anná LaPierre creates custom cakes from scratch at her home and sells them from her storefront on Wilson St. in Brewer. LaPierre has been baking for over a decade, starting when she was just 14 years old. Now, this pro has quite the prize under her belt: bragging rights for making the "Bad Boys From Beantown" a most masterful morsel.
"For the Aerosmith Cake, I was contacted through my bakery Facebook Page. They asked for something to help the band celebrate their 50th-anniversary performance. The flavor they chose was my chocolate Stout Cake with espresso buttercream and a homemade Salted Caramel Filling."
LaPierre says she was almost skeptical when she was first contacted to cultivate such a creation.
"I was actually a little leery at first because I didn't think it was legitimate. I would have never guessed in my entire baking career that I would be making a cake for a band that huge! Once I started putting it all together and creating the decorations, it was no different than any other cake. Delivering it backstage though... I was in awe!!"
It took LaPierre the better part of a day to put the cake together.
"I conceptualized the overall design and created everything from scratch. The whole process took about 12 hours from design to boxing."
"While we didn't get to personally meet the band, we delivered it directly backstage before the show started.
Here's what LaPierre posted on her Anná's Sweets Facebook Page:
"Aerosmith Cake to help the band celebrate their 50th-anniversary performance at the Maine Savings Amphitheater Waterfront Concerts. Chocolate Stout Cake, espresso buttercream, and Salted Caramel filling... hope the band enjoys!!"
Not an easy task, to say the least. It's nothing short of impressive!
LaPierre says it was exciting to put this cake together for such an iconic band and that the reaction to the cake has been nothing short of "Amazing."
"I had over 1500 views the first night of posting the cake on social media and received nothing but great feedback from everyone involved. Definitely a great experience and addition to my portfolio!"
You can check out more of LaPierre's work on TikTok @itsannaaaynotanna.
Maine Savings Amphitheater 2022 Concert Line-Up
Here is who is coming in concert in Bangor along the waterfront this summer.
More From WWMJ Ellsworth Maine