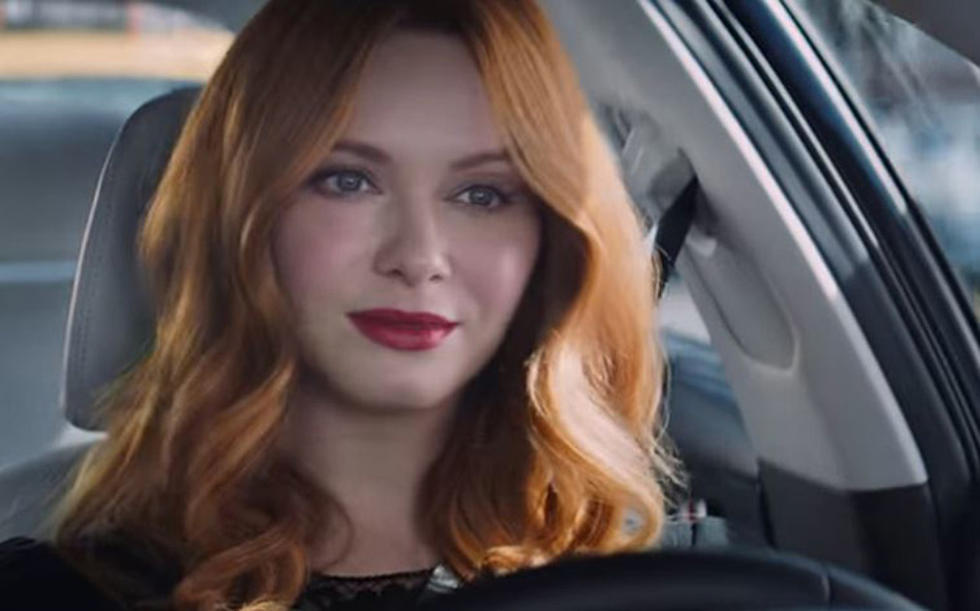 Christina Hendricks Is The Girl In The Kia TV Commercials [PHOTOS + VIDEO]
You Tube video still via Kia Motors America
The name of the commercial is "Impossible To Ignore", and we'd agree.
"Pretty woman, walkin' down the street
Pretty woman the kind I like to meet
Pretty woman I don't believe you, you're not the truth
No one could look as good as you, mercy" - Oh, Pretty Woman - Written by Roy Orbison and Bill Dees.
It's pretty much guaranteed that when this television ad for the Kia Cadenza cars pops on the screen, you're going to look up from the newspaper! Out of the corner of your eye you quickly picked up on the gorgeous red-headed woman departing a ritzy New York City hotel, and then making her way by three very eager drivers with doors open!  Eventually this lovely lady with the beautiful smile opens the door for herself to her equally impressive Kia Cadenza.
Actress Christina Hendricks (41), has been at it for awhile, and is probably best known for playing office manager Joan Harris in the binge-watching TV favorite, Mad Men!
Hendricks started out when she was 18 when she entered a contest to appear on the cover of Seventeen magazine.  She caught someone's eye, signed a modeling contract and then moved to New York City.  She made her television debut at the age of 22 on Undressed, an MTV production. Catch her in movies like Drive, Ginger And Rosa, The Neon Demon, and the TV series Hap And Leonard!
Hendricks, a natural blonde who began dying her hair red at an early age is married to actor Geoffrey Arend.  She's also a great role model and favorite of the ladies, and was voted "The Sexiest Woman In The World" by female readers of Esquire magazine back in 2010.
We don't know if we're going to run right out and buy a Kia soon, but it certainly made us forget about the newspaper for a while!
More From WWMJ Ellsworth Maine