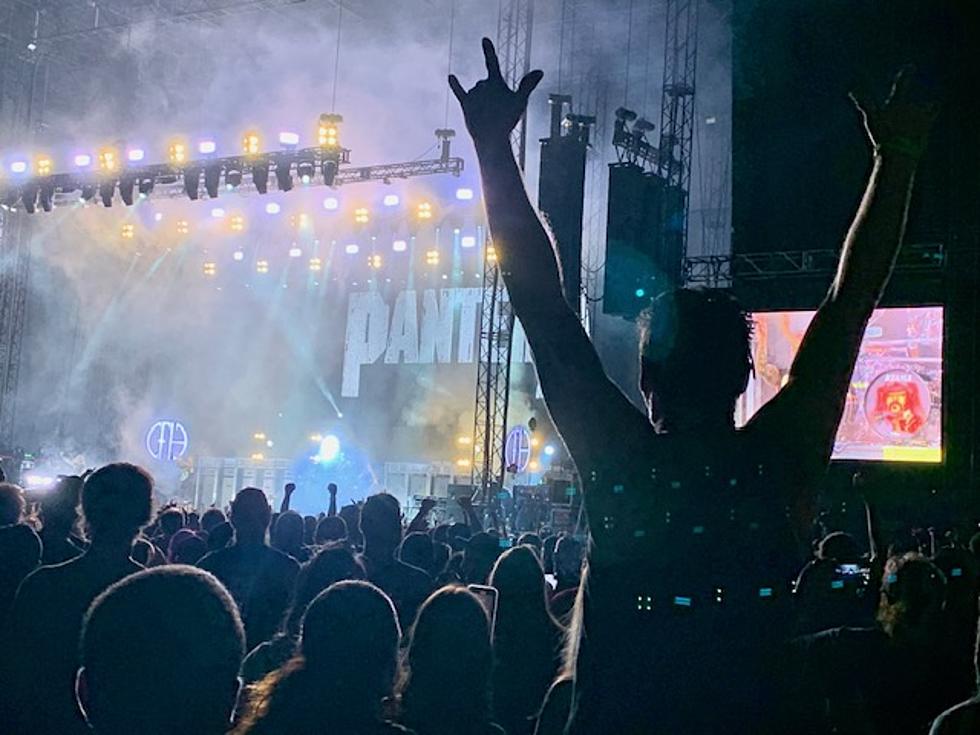 Loud and Hard: Bangor Crowd Pumped To See Pantera
Pantera 14, Cori Skall
Despite oppressive heat and humidity, thousands in Eastern Maine put on their best concert tees, threw on their boots, and headed out to take in one of the more highly anticipated rock shows of the season at the Maine Savings Amphitheater Thursday night.
Australian grindcore band, King Parrot, was the first act to take the stage.
They were definitely a loud group and proud of every foul word that streamed out of their mouths.
In between songs, the band spent a good deal of their time on stage taunting those in the audience to get off their rear-ends and get up and move.
A small number of audience members took the demand as an opportunity to warm up for the next two bands, Lamb of God and Pantera, and took to their feet and did a little headbanging.
Between the first and second set, the Maine Savings Amphitheater, the space seemed to fill up significantly, as folks poured in to check out the next act, Lamb of God.
Hailing from Richmond, Virginia, this band started their set off with a bang (I literally think you probably could have heard it in Hermon, that's how loud it was) kicking off with "Memento Mori."
And it certainly got the attention of the fans, who went nuts for them.
Playing a nonstop onslaught of their greatest hits, including "Walk With Me In Hell", "Resurrection Man", "Ditch", "Now You've Got Something To Die For" (which got the audience singing along), "Laid To Rest" and "Redneck" to name a few, the crowd ate it all up.
Following the Lamb Of God set, there was another quick break. You could feel the energy and anticipation start to build. The crowd wanted what they came for: to see Pantera take the stage.
Then, after a quick set change, it was time.
The Texas band, now composed of vocalist Phil Anselmo, bassist Rex Brown, Zakk Wylde on guitar, and Charlie Benante on drums, brought it, hard and loud! Most recently, they've been opening for Metallica, so you know they brought their A game.
Before the first song had ended, the crowd surfing had begun and the folks in the pit had started to mosh.
And the crowd couldn't have looked more delighted about it all!
When they brought out openers King Parrot to perform "Walk" it was sheer energy!
Finishing their set with fan favorites "Cowboys From Hell", "Slaughtered" and "Yesterday Don't Mean Shit" the band left its fans exhausted and thrilled.
The next big show coming to the Maine Savings Amphitheater is Shinedown and Papa Roach on September 21st.
Who's Got the Most Awesomest Tattoo?
If Maine Threw a Party, Here's How the Towns would Show Up
How would you describe your town as a person?
What is considered 'Maine Attire'?
More From WWMJ Ellsworth Maine