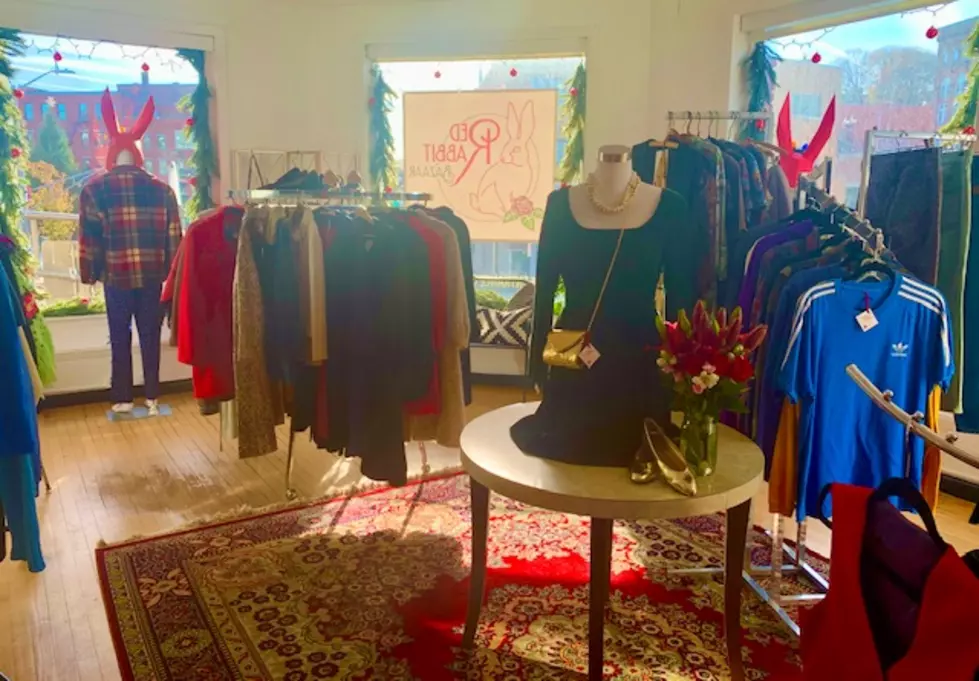 New Downtown Bangor Consignment Shop Has Neat Name And Sells Cool Stuff
Red Rabbit Bazaar 12, Cori Skall
Quietly and without much fanfare, a really cool new consignment shop opened in a building in downtown Bangor, appropriately on Small Business Saturday, of all days.
Red Rabbit Bazaar is the brainchild of Maine native Cara Oleksyk.
"This is just the beginning. Currently, the consignment books are open and Red Rabbit Bazaar is offering vintage & modern apparel and accessories for all bodies. As our inventory builds, we plan on bringing a garment district-style pay-by-the-pound picking area. The aim is to be as economically inclusive as possible. We also want to help folks let go of what is no longer serving them, so they can make more room for things that bring them joy."
Oleksyk came to the world of consignment early on in life.
"I grew up part-time on a small farm In Frankfort, ME. My early jobs were raking blueberries and working on an organic farm. While I was a student at Bangor High School, I joined the Clean Clothes Campaign, an international initiative geared towards supporting garment workers. It was as if I was loosely aware of the importance of sustainability long before I understood the practice and [its] implications. "
Through the years, the area of downtown Bangor became familiar stomping grounds for Oleksyk.
"I frequented downtown Bangor businesses as a teen. I bought my first pair of Dickies pants at the Army Surplus Store on Main Street; thrifted my first grunge granny sweater at the Goodwill on the corner of Union and Short St.; and got curious about clothing materials and styles at The Grasshopper Shop."
Taking her cues from an older member of her family, Oleksyk started to really hone her style.
"It was my great-grandmother who inspired my passion for vintage apparel, adornments, and home decor. She was an artist and a teacher and built an amazing jewelry and tin collection. I helped clean out her home when it was time for her to move on. No matter where I lived after that, a few of her pieces always traveled with me."
She ventured into the business of selling her wares after taking a job working for Tracy Monaghan at Metropolitan Soul.
"I started selling vintage clothing in the back room of Metropolitan Soul. Interestingly, the shop was located where Bangor Sandwich Co. is today, right downstairs from Red Rabbit Bazaar. We expanded to a second location in Orono, and my modest vintage clothing business grew as well."
Oleksyk went on to work other jobs, including managing the boutique & gallery at One Lupine Fiber Arts under the mentorship of Jodi Clayton, all while attending school at the University of Maine in Orono for Sustainable Agriculture.
"While working the vintage markets, I would hear vendors talk about the challenges of not having the space to showcase items properly- that flea markets and antique malls weren't always the optimal sites for selling old apparel. It was my friends, the Sohns family from the Rock & Art Shop, that encouraged me to take the next steps and meet the need I was hearing from vendors."
"With help from a few key people, including Betsy Lundy from the Downtown Business Partnership, I began scouting out locations for a brick & mortar shop this past summer."
"After months of searching for a space that could accommodate a clothing market, I connected with Tim McClary, a partner in the team that purchased the 9 Central building from Paul Cook."
The Before:
The After:
"With an incredible amount of support from my community of family and friends, and also the City of Bangor itself, I was able to complete the demo and rehab work, purchase retail supplies, set up business and consignment accounts, and open a shop within 3 weeks time."
"I think Bangor was just ready for a used clothing market. I don't know how else to explain it really."
If you're wondering how to get into the Red Rabbit Bazaar (because I wasn't sure myself, at first) just look for their sign! The door is right between the 11 Central Restaurant and The Grind House. Simply walk in, up the stairs and it's right next to a shop selling gently used home goods.
"I REALLY lucked out with my neighbor, UniKue & OriJinal's. They house an amazing collection of vendors selling preloved household items, which is a perfect complement to our inventory at Red Rabbit Bazaar."
"The 9 Central Street building is historical and unfortunately, does not have a service elevator. It is important that all people who wish to shop at Red Rabbit Bazaar have the opportunity to do so. Folks are welcome to contact the shop with their specifications (desired materials/colors/style, and measurements), and we will schedule a live virtual shopping experience."
If you want to know how the shop got its name, well, it's kind of cool and complex,  very much like the items Oleksyk has for sale within it.
"My first pet was a rabbit. The first animal hide I ever preserved was a rabbit. My nickname in my 20s was Rabbit. Rabbits live in underground, interconnected tunnel systems called warrens. We are all interconnected and interdependent. I am more able to experience my humanity because you are also experiencing your humanity. The pandemic put the truth of interconnection into laser focus."
"Symbolically, rabbits are considered to be Psychopomps, serving as liaisons or guides between planes of existence. In the big system of the fashion industry, businesses like Red Rabbit Bazaar operate outside of the assembly-line, linear supply chain. We are here to help steward the story of stuff and create more circular economies. It's not that one modality is better than the other though; there's room for all of it. And there's also room for improvement and evolution."
"Red is the color of love, passion, and lifeblood. Downtown Bangor is a heart, not to say it is the only cultural focal point in our city, but it is the one I feel most connected to. Red Rabbit Bazaar is my opportunity to give back to the downtown community that so freely gave to me."
Oleksyk says she will have a grand opening next month and invites everyone to come in and check out the newly renovated space.
"Red Rabbit Bazaar is celebrating its Grand Opening with an event on Friday, December 16th, 5-8 PM. We'll have some specials on inventory and also feature performances by a local vintage burlesque troupe with Eye Candy Studios (our upstairs neighbor)."
"Next year, we will introduce USA-made clothing lines to the racks and also launch basic sewing repair and darning classes. I believe we deserve a closer connection to the production of our goods and also knowing how to extend the life and use of those items. Our motto is: together, we can reduce the waste stream one outfit at a time… and we can do it in style."
For the Holiday Season, the Red Rabbit Bazaar will be open Tuesday through Thursday from 10 AM to 6 PM, Fridays & Saturdays from 10 AM to 7 PM, and Sundays from 10 AM to 4 PM.
You can call them with questions at (207)573-1744 or email, find them on Facebook or  them Redrabbitbazaar@gmail.com
Welcome to town, Red Rabbit Bazaar.
Bangor A to Z
Bangor is our home, so we try to know as much as we can about it. Here are the ABCs of our beloved Queen City.
More From WWMJ Ellsworth Maine