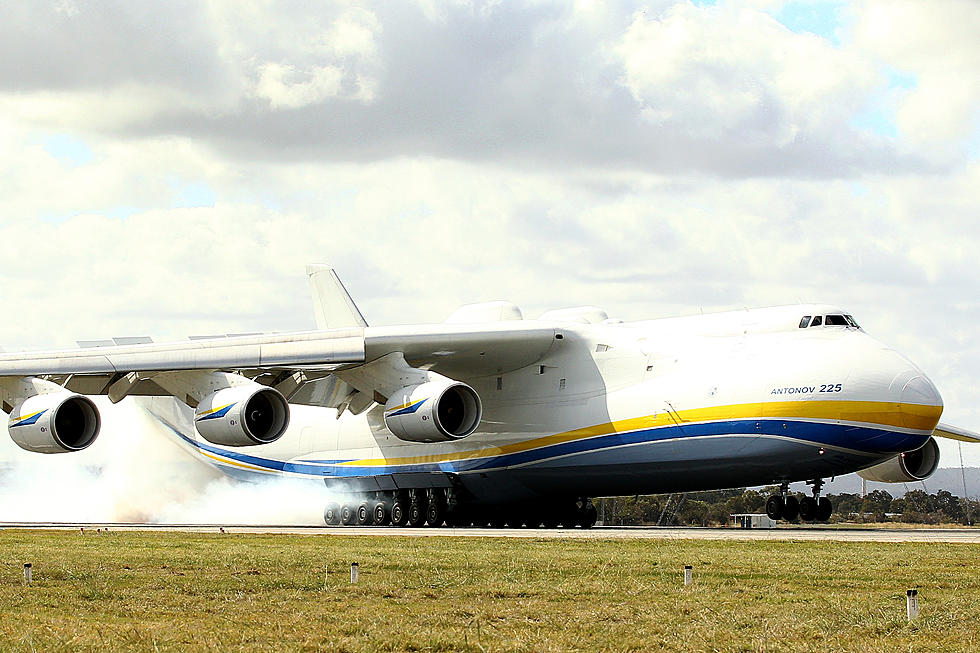 Occasional Bangor Visitor, The World's Largest Plane, Destroyed in Ukraine
Paul Kane, Getty Images
It was always an impressive sight when it visited Bangor. The largest plane in the world has reportedly been destroyed in Ukraine.
The Antonov AN-225 Mriya has been destroyed in the ongoing conflict in Ukraine. According to Ukrainian state defense company Ukroboronprom, which manages the world's largest plane, "Russian occupiers destroyed the flagship of Ukrainian aviation." The technical condition of the aircraft has not yet been investigated.
Ukroboronprom says they will rebuild the $3 billion aircraft, at Russia's expense. In a press release the company says "Ukraine will make every effort to ensure that the aggressor state pays for these works." The plane was being repaired at Gostomel Airport at the time of invasion. The plane was not in working order at the time.
The massive plane weighs in at 628,317 pounds, empty. It's the longest airplane ever built at over 275 feet. The wingspan is 290 feet. Six turbofan engines rocket the aircraft through the sky at a maximum speed of 528 miles per hour. It's capable of transporting up to 640 tons of cargo.
The Antonov AN-225 Mriya was an occasional visitor to Bangor International Airport. It was always quite the spectacle when the massive plane would land in Bangor. The video above was captured durring a visit in July of 2020.
World's Biggest Things in Maine
Take A Forbidden Look Inside Frozen Fort Knox
Fort Knox
is closed for the season. While winter visitors can roam the grounds, the interior of the fort is closed off from the general public. If you browse through the photos below, you'll see why the fort is strictly off-limits until spring. That being said, we were given permission to enter the fort to create this gallery.
Again, the fort is closed from November through April. Do not attempt to enter the interior of Fort Knox. Entering the fort during the closed months is trespassing, and very dangerous.
More From WWMJ Ellsworth Maine