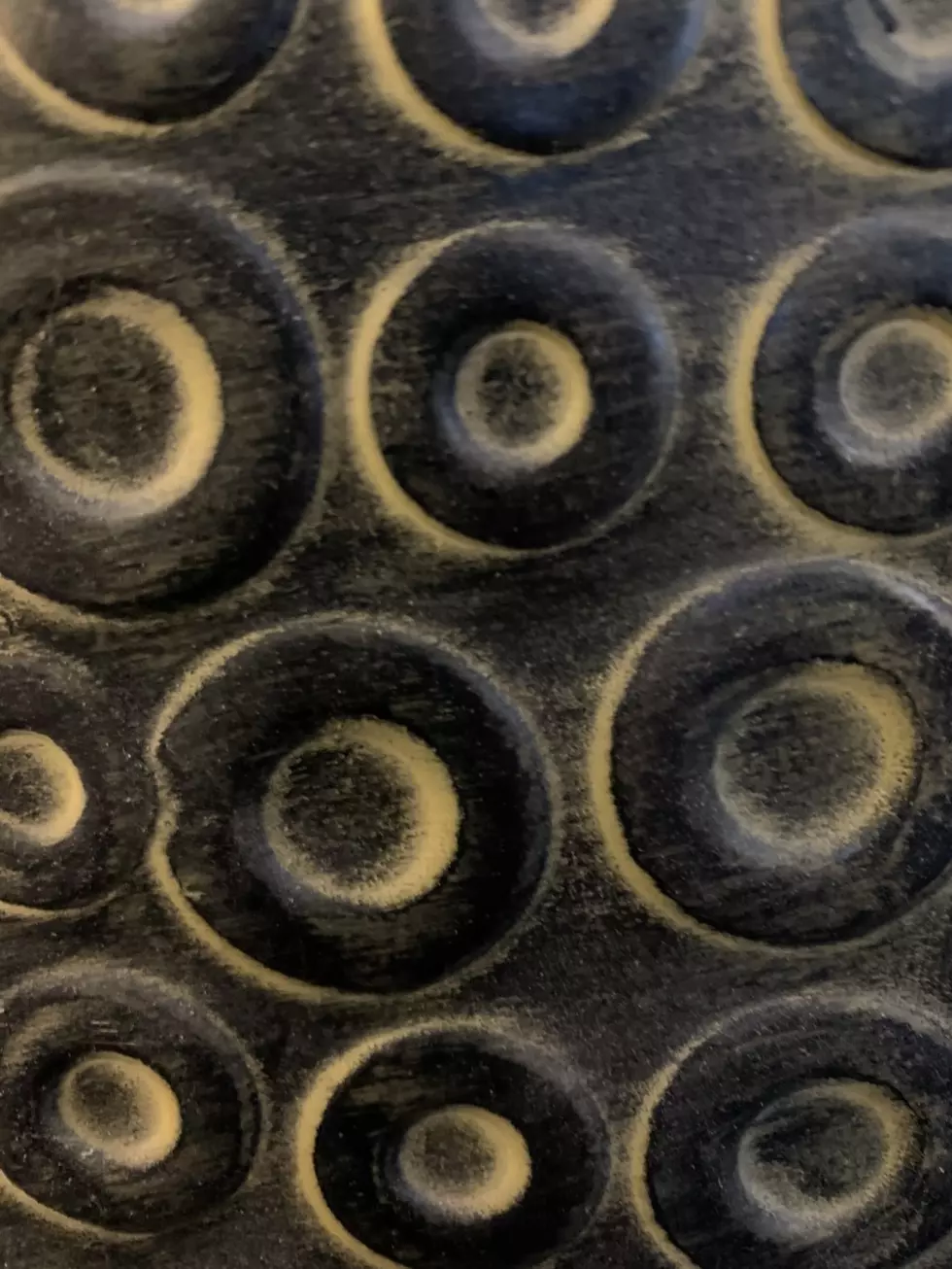 'What's This Wednesday' Was Tough This Week. Here's The Reveal…
Photo JStew
'What's this Wednesday' proved to be a bit of a challenge this week, but let's have a peek and see exactly what it was...
JStew: Normally Cori is the reigning queen of WTW photos. But this week, I even stumped her. It follows the basic rules. Which is that it's something right from my house. And this time of year we use that crazy little thing every day when we light the woodstove. It's just a pressed tin vase that we hold long wooden matches in. Cute, isn't it?
Cori: My first guess was Chocolate Cheerios. When JStew shot that down, I immediately went on to guess Octopus arm...totally logical, right? After realizing that was not likely something he has just laying about his house, I went back to the drawing board (although it would have been super cool if he did!) I thought maybe a shower curtain or bathmat. I was way off, but feel good about the fact that I'm in good company this week, because no one seemed to guess correctly!
Now that we've seen what the object is, let's look at your guesses. They were really fun to read. Especially since no one ever figured out what it was! Next we'll go easier....maybe.
Kathy Bridgham 
Sneaker sole
Nancy Neu Cleats
Cjp Philbrook Chocolate covered glazed donuts
Greg Miller Cori or J Stew's soul (of a shoe)
Steve Arey Traction mat
Heidi Farquhar I'll go with some kind of sole
Sally Thompson Carpet
Harry Wilson Jr. Bottom of hospital footies
Rob Irwin Bottom of someone's sneaker.
Kari Jo Davis Looks like the bottom of a donut pan, or a rubber tread.
Delcina Gomm Bottom of a Nike shox.
Brad Rice Chocolate Dounuts
Julia Crowley bottom of your shoe?
Natalee Kohls Shoe tread
Kennith Boehmer Floor mat?
Thom Osborne 
Someone forgot to clean up the spilled Cheerios before spray-painting that old kitchen table?
James Naaykens Jr Gloves
Jennifer Martell 
The floor of the merry go round (not sure what that spin toy is called)at the playground
Ann Pinkham Briggs Rubber mat
Terri Turcotte Sneaker tread?
Megan Bridges 
The cheerios and milk I found under the kids bed.
Larry DeWitt is it a rubber mat of some sort?
James White 
Tire tread on rc car
Enter your number to get our free mobile app
KEEP READING: See the richest person in every state
More From WWMJ Ellsworth Maine