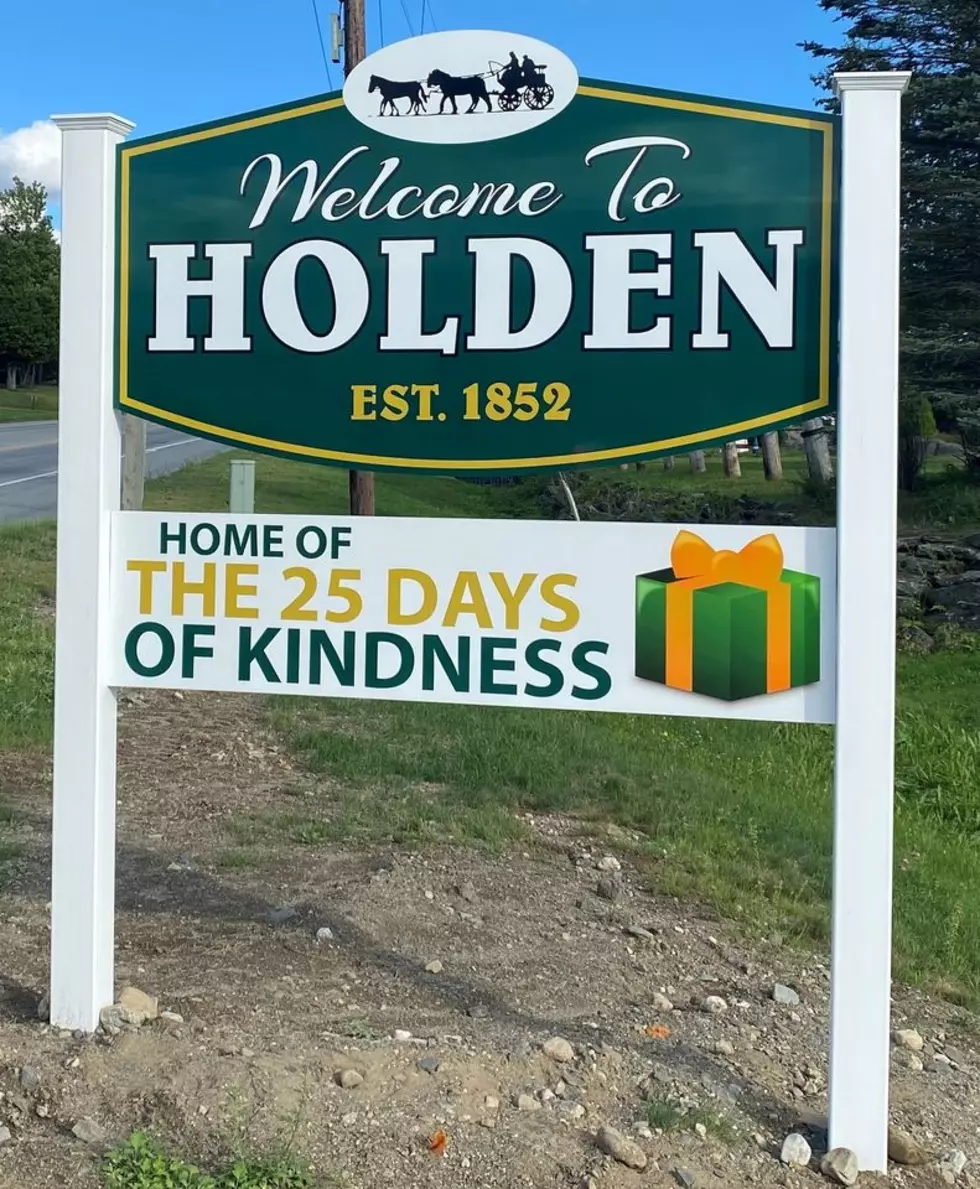 Way To Represent; Holden's "25 Days Of Kindness" Program Makes The National News
25 Days Sign, Holden Police Department Facebook
Several years ago, the Holden Police Department under the leadership of Chief Chris Greeley, started the "25 Days of Kindness Program."
According to Chief Greeley, it started out as a small operation.
"This started 6 years ago with like $200 and just my guys doing some good deeds. It's now turned into this thing that really just takes up so much of my time."
Since then, it's grown quite a bit, and become much more of a big deal.
"This also has been a record year for '25 Days of Kindness' Last year was a record in terms of cash donations. "
He said that the program took in just over $11,500 in cash alone. This year, it's up over $26,000 in just cash donations, not to mention the other items like food, clothing, and gift-cards.
"People have been super, super generous and with the more publicity, we get, well that generates more phone calls. Or what's even cooler than that is when people come in, which they're doing now, on behalf of other people, and that's really fun. "
So far, among other things, the program has helped local veterans, provided donations for folks to fill their fuel tanks, given gift cards to garbage men, and even bought "snack milk" for school students in the town.
All those good deeds got them noticed by a National News outfit recently. When he first got the email from the organization, Chief Greeley says he didn't believe it was real.
"So he calls and I said I was suspicious and what's the deal? And he says 'Well, I work for this TV Channel, News Nation. I produce America In The Morning.' And I said 'How did you find out about the Holden Police Department?' And he said 'We're looking to do a happy story before Christmas, and I googled the words kindness and Christmas and the first thing that came up was the Holden Police Department.'"
You can check out the news story here.
The Chief says the time was set for the Zoom call, and despite a last-minute power outage that almost caused him to miss his window to chat with the host, Greeley was able to sing the praises of this "little program that could and did" to the masses.
"I think it's a two-pronged thing. It's a nice, non-negative, feel-good kind of story so certainly that national attention is much appreciated."
"It certainly has been fun, but if it weren't for the support of the community and my fellow police officers...while the old man is riding around handing out candy and presents, these guys are working here, doing the real police work."
Well done, Holden PD. Thanks to your hard work and the generosity of folks in the community, this little pocket of Maine shines bright this holiday season and represents one of the best qualities of the state, and people in general; the willingness to help one another.
Keep up the good work!
10 Ways to Help Brighten the Holiday for Mainers in Need
Maine's charitable organizations have a variety of ways for you to help others this holiday season.
More From WWMJ Ellsworth Maine