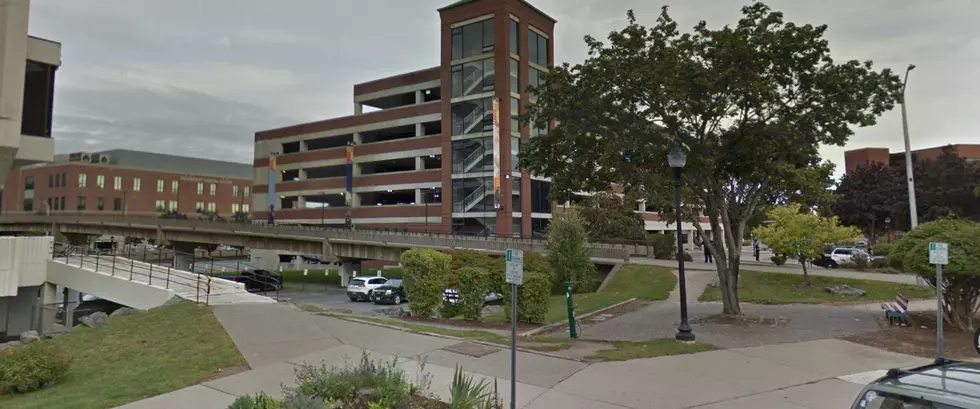 Downtown Footbridge Is Closed For Upcoming Replacement
Photo Google Street View
In what has certainly been a week of left and right disappointment, a teeny bit of good news has come around. Granted, take that with a grain of salt. But, the William Orr Bridge is going to get some much needed re-tooling. It's the one downtown that starts by the parking garage, and connects Pickering Square Park to Exchange Street.
It was built around 1980, and when you look at it right now, it kinda looks like it. It's fairly outdated, and almost needlessly wide. Currently, it's about 20 feet wide, but the new one going in will be about 12 feet wide, says WABI - TV5. The work should begin relatively soon, and should be done by the end of the summer. Hopefully.
I remember when it was built when I was a kid. I went across with my grandfather some time later, and I remember thinking that it was huge. Of course, I was 7, so everything seemed huge. Later I remember riding my bike across it, while cruising around downtown. It was actually pretty fun. Not really sure why, but I definitely made it a point on my rides.
Bangor has been doing a lot to make our downtown area cleaner, safer, and more fun to be in. Not to say Bangor was a dump before, far from it. But we live in a cool little city, so why not do everything we can to make it better? And they're not getting rid of this bridge, just giving it a much needed face lift. Sounds good to me.
KEEP READING: Here are 50 of the most famous sports goofs
More From WWMJ Ellsworth Maine