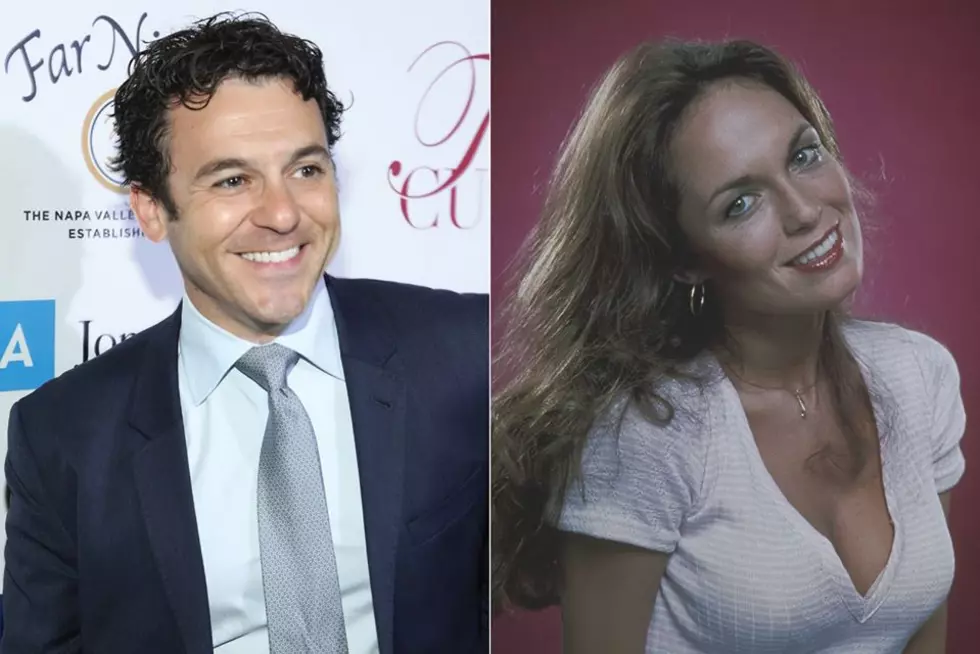 Who Was Your First Famous Crush?
Getty Images
Cori: This week, my first famous crush ever, Fred Savage from "The Wonder Years" celebrated his 44th birthday! (I wanted so badly to be Winnie Cooper. It was ridiculous!) It was during a discussion about that little "fun fact" that JStew and I got to talking about our First Famous Crushes; the Radio, TV or Movie starts that made our hearts flutter...or at the very least beat a little faster when we saw them on the screen, in the pages of magazines or heart their songs.
My taste changed a bit as I got older, and my other crushes included Jonathan Brandis (don't judge me, I thought he was dreamy and had great hair) Tim Curry (I know--total reverse in direction there) and David Bowie (you can judge me for that one--I don't care.)
But there's a special place in my heart for Fred. He was the first ever in my book.
JStew: I admit it. 7 year old me was completely smitten with Daisy Duke. Although, because of my love of matchbox cars I was also probably just as smitten with her Jeep, and probably even more smitten with the General Lee. But seriously, I loved my matchbox cars more than just about anything at that age.
As I got into my teens, Melissa Joan Hart from Sabrina The Teenage Witch became a thing. And when Jamie Pressley was on My Name Is Earl... fuggedaboutit. These days, who knows. Certainly my lovely bride, and probably still Melissa Joan Hart. Haha!
You had no shortage of opinions on the subject, offering your own "Famous Firsts" for us to enjoy!
One caller said Lynda Carter from Wonder Woman.
Michael Strout Daisy Duke no contest
Dennis Bean Daisy duke...but she follows Jaclyn smith." Kelly Garret" from Charlies Angels.
Don Morgan Olivia Newton-John. Until I found out she was the same age as my mom. Then it was Charlene Tilton.
Lori Grant Ricky Schroeder from silver spoons
Chad Byron Shorey
Elisabeth Shue was mine gawwwwdddd...

 everytime she said Daniel you're the best in karate kid I envisioned myself at a karate tournament and her cheering me on lol
Wendy Cousins
 her whole family was awesome! Her brother Andrew was mine (before he made it lol)
Megan Bridges
Fred Savage is a good one! I would add Ethan Hawke and Christian Bale (the late 80s/early 90s versions) to my list
Rob Irwin
I am being 100% honest here, I had a bunch of mini crushes, BUT the first big time crush I had was on Lea Thompson ( Red Dawn - 1984,Risky Business, Back to the Future movies, Howard the Duck, Some Kind Of Wonderful - to name a few ).... Just something about her eyes and red hair.
Mary Klein Drouin
I had way too many..... I really liked Italian men, especially Sylvester Stallone and I'm not ashamed that I had a crush on John Gotti, the infamous mobster.
Kelly Ann Seamans Gregory Harrison from trapper john and my girl crush was and always will be Farrah❤
Fred Miller Farrah Fawcett ❤️
Mark Bulley Farrah Fawcett, in that swimsuit!
Brent SpringerCheryl Teigs. Charlie's Angels. Farrah Faucet also.
Wendy O'Roak Anderson John Travolta
Jason Jake Tarr Kathy Ireland
Jeff Solari Kathy Ireland. Oh my.
Aisling Doucette Mark Walhburg when he was Marky Marky lol
Sheldon Ka'Voch Eugene Strout Jr. (Brooke Shields) Always have been. Always will be.
Jenna Barron Marty Mcfly  (Michael j. Fox)
Nancy Neu My first crush was John Wayne
Stacey McGoff Cox Sean Astin. Saw him in The Goonies and I was hooked!\
Heidi Harris Devon Sawa from Casper and Ladybugs (movie with Rodney Dangerfield).
Melissa Anne John Bon Jovi
Joe Holton 
Barbara Eden from I Dream of Jeannie
Wendi B. Knowles David Cassidy & Davy Jones
Judy Andrews Michaud 
David Cassidy, Michael Jackson, Davey Jones from The Monkees and Donnie Osmond
Nancy Palardy 
Donny Osmond..

❤
Nobelee Belanger 
Donnie Osmond 
Marianne W. Mills 
Bobby Sherman
Cheryl McManus 
Bobby Sherman
Sandra Lyn
Oh dear! I'm so embarrassed but my first childhood/celebrity crush was David Hasselhoff. The show "Night Rider" was on at the time and his first album "Night Rocker" had just come out too. I was obsessed! (SIGH)
Keri Whitney 
Kirk Cameron
Kelly Tracy
Christian Slater
Melanie Makin 
Harrison Ford as Indiana Jones 

:-D

 Apart from NKOTB, of course. Oh, 1980's.
Elizabeth Leavitt 
Hands down Harrison Ford! Since I was 5 and forever!'
Becky Sutherland 
Jack Wagner
Allen Esposito 
It would def be Jeri Ryan!
Carrie Mitchell 
Paul Walker baby!
Melissa Avery Burns
Shawn Cassidy...dadoorunrun!
Margaret Siemerling 
Scott Bakula from the show Quantam Leap. Hubba hubba!
Brad Rice 
Marsha, Brady Bunch
James Naaykens Jr 
Was and still am head over heels for Heather Locklear
Roberta G. Thompson 
I always thought Ricky Nelson was a cutie!
Paul Keezer 
Maryanne from Gilligams Island..
Jeffrey Edick 
toss up between Goldie Hawn dancing graffiti bikini on Rowan&Martin's Laugh In, or Yeoman Janice Rand on Star Trek, yes I'm old.
Stephanie White Grass 
Probably Glen Campbell! I loved him when I was like 4 yrs old!
Betsy Goodwin 
Everyone in New Kids On The Block. I had a pillow for each one and cuddle a different one each night. Lol
Wandamae Stoddard Buck 
Donnie Wahlberg❤️
❤️
April Robshaw
It's always been a tie! Eddy Rabbit and Kenny Rogers.. I mean "I Love a Rainy Night".. " Lady" they were my celebrity crushes.. 
Sarah Thayer
JTT 

(Jonathan Taylor Thomas)
Natalee Kohls Rick Springfield
Famous First Crushes
More From WWMJ Ellsworth Maine